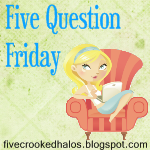 1. How close to your childhood dreams is your life now?
I would say I've gotten really, really close to my childhood dreams. I always wanted to be married and have children. That was my number one priority. I say you can't beat achieving dream number one! I also wanted to have a career as a doctor, vet, teacher, lawyer, depending on the year it would change. I graduated with my degree in Elementary Education and have my teaching certificate. Due to the shingles complications I won't be teaching next semester, at least. I'm close, though. Very close. I don't think many people even get this far, so I feel lucky.
2. What is one must have item for the summer?
Air conditioning! Living in Arizona, I really don't know how the frontier people did it. I've been enjoying that we're still getting down into the 60s during the night and have been opening the windows for a bit in the morning. By this time next month the lows will be in the 80s overnight and we won't be able to get the beautiful morning breeze.
3. Do you have your kids stay up on school stuff during summer vacation? (Or, if you don't have kiddos, did your parents make you keep up on school stuff during summer?)
I have my kids read during the summer. We shoot for daily, but that doesn't always happen. If the kids are having fun with others in the neighborhood, I don't stop that. I think the socialization and the time to just enjoy life are just as important as keeping up academically. This summer we have thrown in a "summer school" element to fill some gaps that I noticed each of my girls had this school year. They are really enjoying the summer school activities. Go figure!
4. Do you can or freeze fresh produce?
No. I wouldn't even know where to start.
5. Do you get ready for the day first thing in the morning?
I used to, and when I am feeling well I still do. Since the nerve damage, though, it takes me awhile to get motivated to get dressed every day. I spend some time waking up playing on the computer and catching some quiet time before the rest of my family wakes up. Having the girls home for summer has been great, but the noise level has been challenging.