This giveaway is now closed! Please continue to enjoy the review.
Congratulations to Valerie @ My 2 Cents- Winner of the "Island Girl" giveaway!
I'm linking this review up to Mrs. Readalot's Bloggy Bookclub because I think this book should be seen by as many people as possible. And, to be honest, due to my health problems this month, I simply didn't get to reading the choice of the month. Thank you, Mrs. Readalot, for allowing us to choose other books as well!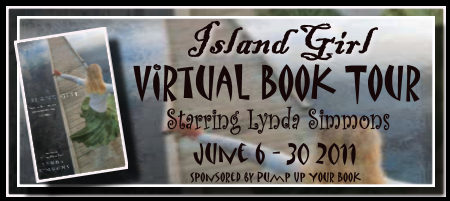 Imagine your mother called to tell you she had early onset Alzheimer's. She needs you to move into the family home and take over the day to day activities in order to keep that home running smoothly. It's a no-brainer, right? You do what you can to help your family. But wait... What if I told you that you haven't spoken to your mother in years? You are the black sheep, and there are just too many skeletons in that closet for you to make that decision lightly. This is the basic idea behind Lynda Simmons' "Island Girl."
I can certainly understand why Liz feels pulled when she finds out what her mother is asking of her. I can also imagine being in her mother's position and wanting Liz to come home. That is exactly what makes this book as good as it is! Both Ruby and Liz have good points. Which one will you side with?
Lynda Simmons tells a good story, but the best part about this book, I think, is the character development. Each person in "Island Girl" is so real. Liz has some problems, and they aren't just on the surface. The author gets down and dirty with her feelings, actions, and language. Ruby doesn't just deal with her illness by accepting it. She really has to work through her feelings, and I LOVE that she's writing a blog- sort of. There are more great characters in this story, but I want to leave them for you to discover and fall in love with the same way I did.
Telling the story from alternating character views gives this book the feeling that the reader really is in the middle of this life. I could imagine myself hearing the telling from all sides, just as a person who would be friends with the characters would. We got to see into each storyteller's mind as they were giving their version of what was occurring.
"Island Girl" is one of those books you pick up and want to read all the way through. It is great for summer reading. Grab a great big glass of iced tea, find a comfy spot on your back porch, and read until the sun has set and the mosquitoes come out. Then keep reading because you'll forget all about the world around you as you become wrapped up in life on the island. Go ahead... you deserve some time to relax and enjoy a great book!
Book Giveaway:
I want to share my copy of "Island Girl" with a lucky reader! This book is one that doesn't deserve to sit on shelves, so I want to pass it along.
How to enter: Stop by Lynda Simmons
website
and tell me something you found interesting about the author or her books.
Additional Entry: Like Life with Karen on
Facebook
and say hello. Leave me a comment, then come back here and tell me you did. Please be sure to do this in a separate entry.
Don't forget to leave me your email address, if it's not in your profile, so I can contact you if you win!
Giveaway will run until 8 PM Arizona time on Saturday, July 2, 2011. Winner will be chosen randomly and will be contacted via email. Winner will then have 48 hours to respond with shipping information. This giveaway is good for U.S. residents only. Thank you!
This giveaway is sponsored by me, and the prize is a USED copy of "Island Girl" in almost new condition. I was given a copy of the book by the author for review, but all opinions are mine. I was not paid for this review.
Good luck, and enjoy "Island Girl!"