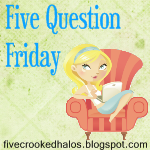 1.
D

id you do anything special for your kids on the last day of school? Or did you parents do anything special for you?
I sometimes think I really am a horrible mom. I didn't even think to do anything special for my girls on the last day of school. They were done on Thursday, and I had my last day of school on Friday. My mind was completely stuck on wrapping up my own school year and leaving my classroom for the last time. It's not a good excuse... I know.
2.
W
hat's your favorite summer tradition with your children?
I like to have "sleep overs" with my girls a couple of times during the summer. We drag pillows and blankets into the living room and watch girly movies Daniel might not enjoy. I usually sleep in the living room until they fall asleep then climb into my own bed to get some rest.
3.
What was your favorite thing to do during the summer as a kid?
Read. And ride my bike to the library. Not much different than how I enjoy spending my summers now, except that I drive to the library. I don't know WHY I thought riding my bike to the library in 100+ degree summer heat was a fun idea.
4.
How old were you when you were married? Were you a Bridezilla?
I married for the first time when I had just turned 22 and for the second time when I was 25. I wasn't Bridezilla. In fact, when Daniel and I married we changed from the big shindig idea to the Deer Farm venue because I couldn't stand all the stress and craziness of the planning. Both of my weddings were just the way I wanted them to be (outdoors and on the smaller side with a buffet dinner), and together they cost less than $5,000.
5.
W
hat is your favorite girl name?
I like the ones we picked for the girls- Andrea and Amber.