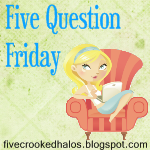 1. Are you a napper?
Before this week I would have told you no. When my thyroid medication is off, though, and stress starts beating down on me, the tables turn. It seems like all I want to do is nap right now. After not sleeping for weeks on end, I'll take this, though. I think my body is trying to get back in balance.
2.
What was your favorite subject in school? Most hated?
My favorite subject was anything having to do with language arts. I loved to read, to write, and to share that with others. Math was definitely my most hated. It's funny those are my most and least favorite to teach now. I guess not much has changed in the 20 years since I left high school.
3. D
id you have the something old new borrowed and blue at your wedding? What were they?
I remember having these things, but I don't remember for sure what they were. I think I had my old shoes on (Daniel and I got married at the Grand Canyon Deer Farm with jeans and t-shirts on). My outfit was new, and my mother-in-law gave me a new handkerchief to put in my pocket. I also borrowed a stand of pearls. The outfit sounds incredibly goofy now that I describe it here, but it was actually a lot of fun and pretty cute. For my something blue my mother-in-law made a veil that had blue in it. It's too bad I don't have wedding pictures saved on my computer. One of these days I'll have to scan one and share it. My wedding ceremony was a hoot with the deer eating my flowers.
4. W
hat one thing are you determined to do this summer?
I am determined to find a teaching job and start planning for next school year. As I suspect every teacher desires, I want to start dreaming about my next group of students. What kind of projects are we going to do? How am I going to handle grading and missing assignments this year compared to last? I have a million ideas running around in my head, but I have to find out where I will be working and with what age group before I can really start putting thoughts together.
5. Ice cream or Popsicles?
ICE CREAM! Enough said.