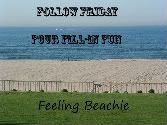 1.
After a long day, I like to

hang out with my family and watch TV. I'll admit it, I am NOT the type of parent who limits screen time. My family LOVES our electronics, and I will freely admit that. We do a lot of family activities, though, so I don't feel bad for that hour on Sundays when we are each off in our own world enjoying our internet time. ANYWAY... back to the original question. We usually only have time to catch up on our favorite shows a couple times a week (thank goodness for Hulu). After a long day at work it is nice to come home and relax. The best part is that our favorite shows are also ones the kids like, so we don't have any complaints or arguments about what we are going to see.
2.

Vinegar

is my favorite cleaning product

. I love how shiny and clean things look after being wiped down with vinegar. It works really well for most surfaces, too. I still haven't found a product that works reliably on the soap scum in my shower, but I'll forgive the vinegar for that. It is a great fabric softener, too!
3.

I can't stand to watch

people acting stupid

. I used to LOVE shows like "America's Funniest Home Videos." There are only so many crotch shots a person can handle seeing in a lifetime, though, and I have reached my limit. Why is it funny to see people get hurt or to be stupid. This usually goes hand-in-hand. Stupid kid riding his bike on a roof, falls off, NOT funny!
4.

I want to

throw a softball around

when I

hear certain music. When I was in junior high and the first couple years of high school I was obsessed with softball. If I wasn't at practice or playing in games I was outside playing with my net that threw the ball back to me so I didn't have to have a partner. My other favorite companion during this time was a boom box that I could drag outside. Ah, the perfect combination for a young athlete! I had a tape (this was before the days of CDs) filled with songs that made me want to move. It's amazing how those same songs get me itching to move to this day. "Centerfield" is one that I just can't sit still if I hear. I want to throw a ball something awful. I keep saying I'm going to get a net for our backyard, but I never do. I think I'm afraid that the memories will be better if they stay tucked away instead of trying to relive a life that in my mind was beautiful.